About Us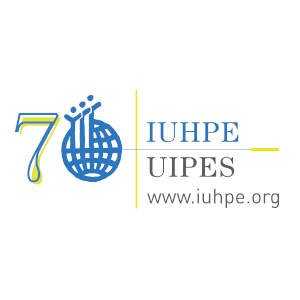 PROMOTING HEALTH AND WELL-BEING FOR ALL
The International Union for Health Promotion and Education (IUHPE) is a unique worldwide, independent professional association of individuals and organisations committed to improving health and well-being through education, community action and the development of healthy public policy.
IUHPE's vision is a world where all people achieve optimum health and well-being.
IUHPE STRIVES FOR HEALTH EQUITY BY:
Advocating for policies and practices that create greater health equity
Creating and supporting effective alliances and partnerships to improve health outcomes
Making evidence-based health promotion knowledge and practical experience broadly accessible
Promoting excellence in policy and practice for effective, quality health promotion
Strengthening capacity in individuals, organisations and countries to undertake health promotion activities and carry out advocacy efforts
Health is a basic need and a human right. IUHPE supports actions that empower people to control their own health and that promote healthy societies.
IUHPE World Conference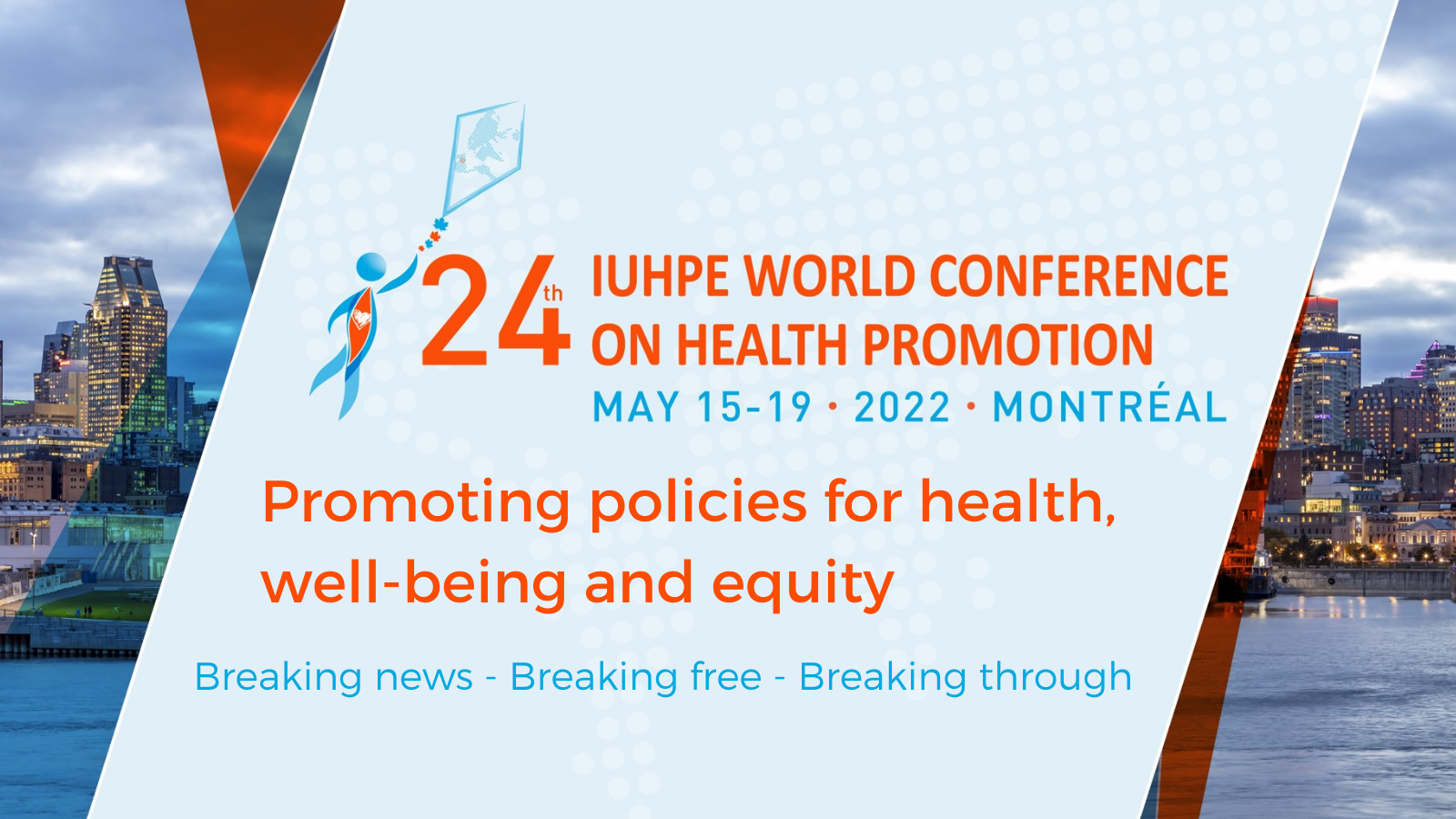 The IUHPE is pleased to invite you to participate in the 24th World Conference on Health Promotion. This major event is held every three years and will take place from May 15 to 19, 2022 in a hybrid format, both in-person in Montreal, Quebec and virtually. We will start accepting abstract submissions for the conference this April 2021 and encourage you to visit the conference website for more information and important dates https://iuhpe2022.com/.
IUHPE 70th anniversary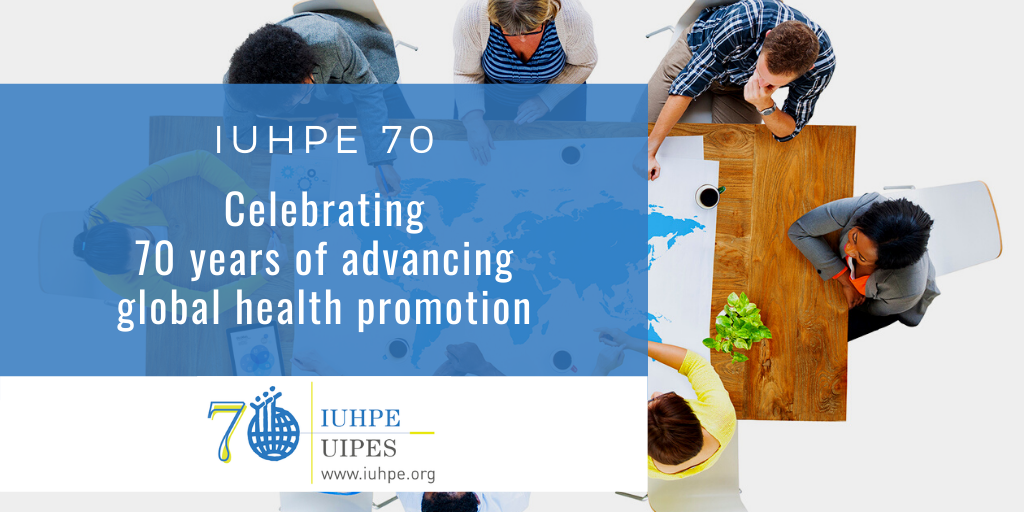 IUHPE commemorates an important anniversary in 2021, marking 70 years since its foundation. To celebrate this milestone, there are a range of activities planned over this year, including a webinar series, regional celebratory events and conferences, and a special publication of Global Health Promotion journal. Join us in our celebrations and visit our website to learn more https://www.iuhpe.org/index.php/en/iuhpe70.
Resources
Subscribe via RSS
Contact Us
Visit our website:
www.iuhpe.org
Follow us on Twitter, Facebook, and LinkedIn:
@iuhpe
Questions? Email us:
iuhpe@iuhpe.org
Mailing address:
IUHPE-UIPES International Secretariat
c/o École de Santé Publique
Université de Montréal
7101 avenue du Parc, porte 3187
Montréal QC H3N 1X9
Canada
Four ways to engage with us:
Contact us Form
[{"type":"text","required":true,"label":"Name","className":"form-control","name":"name","subtype":"text"},{"type":"text","subtype":"email","required":true,"label":"Email","description":"We will contact you using this email address.","className":"form-control","name":"email"},{"type":"text","required":false,"label":"Institution/Organization/Company","className":"form-control","name":"text-1617241698711","subtype":"text"},{"type":"text","required":false,"label":"Country","className":"form-control","name":"country","subtype":"text"},{"type":"checkbox-group","required":false,"label":"What would you like more information about?","name":"checkbox-group-1617241723316","values":[{"label":"Events","value":"Events","selected":true},{"label":"Membership","value":"Membership","selected":false},{"label":"Accreditation","value":"Accreditation","selected":false},{"label":"The GHP journal","value":"GHP_journal","selected":false},{"label":"Projects and Partnerships","value":"Projects_Partnerships","selected":false}]},{"type":"text","required":false,"label":"What else would you like more information about?","className":"form-control","name":"text-1617241811382","subtype":"text"}]
Contact Us
| Access Date | Quiz Result | Score | Actions |
| --- | --- | --- | --- |