About Us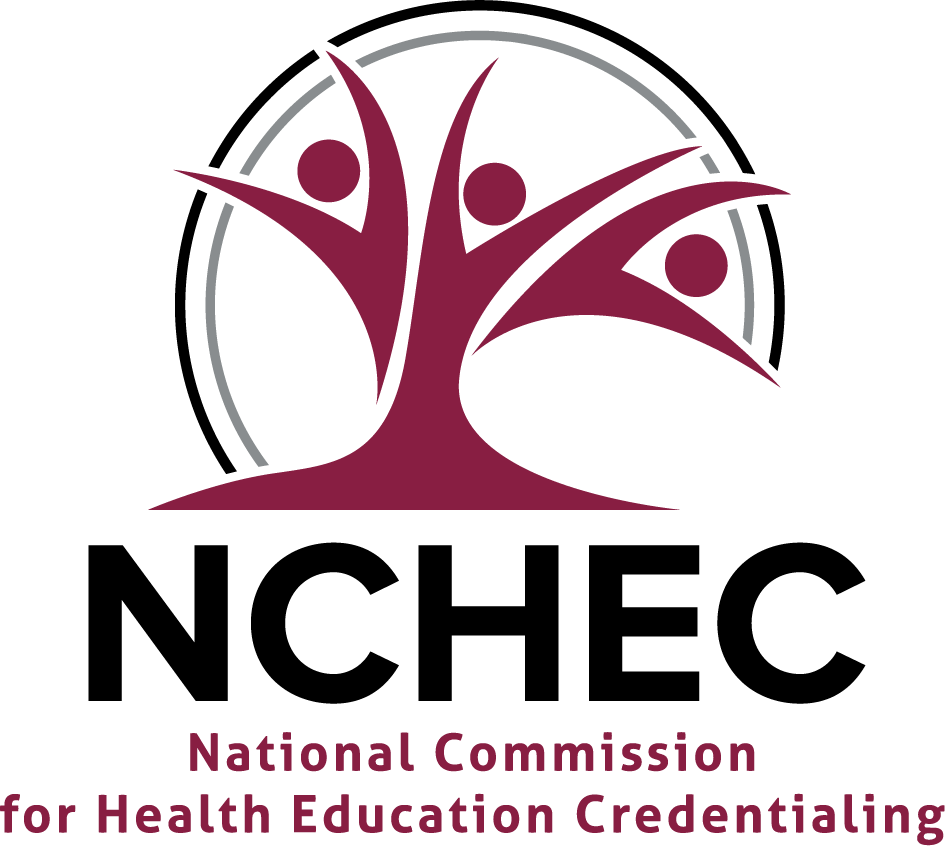 With over 30 years of history, NCHEC is a highly recognized and well respected credentialing organization administering two professional credentialing programs including the CHES®, designed for entry-level health education specialists, and the MCHES®, for advanced-level practitioners. NCHEC is the only accredited U.S. certifying agency for the Health Education and Promotion profession. For more information about NCHEC's renowned certification programs, visit www.nchec.org, or browse our resource and video exhibitor sections while attending Virtual SOPHE2021dX!
Contact Us
National Commission for Health Education Credentialing, Inc.
1541 Alta Drive, Suite 303 Whitehall, PA 18052-5642
Phone: (484) 223-0770 (484) 223-0770
Toll-Free: (888) 624-3248
Fax: (800) 813-0727
http://www.nchec.org
For questions about Renewal / General Information / CHES® Exam Applications / Log-In / Account Issues
ADMINISTRATIVE COORDINATOR
Mimi Byelick
Phone: Extension 22 Email: admin@nchec.org
EXECUTIVE DIRECTOR
Linda Lysoby, MS, MCHES®, CAE
Phone: Extension 13 Email: llysoby@nchec.org
DEPUTY EXECUTIVE DIRECTOR
Melissa Opp, MPH, MCHES®
Phone: Extension 11 Email: mopp@nchec.org
For MCHES® Exam Inquiries/Special Projects
CREDENTIALING PROJECT SPECIALIST
Cynthia S. Kusorgbor-Narh, MPH, MCHES®
Phone: Extension 16 Email: cnarh@nchec.org
For questions about CHES® Exam / Eligibility
EXAM COORDINATOR / OFFICE MANAGER
Tanya Cole
Phone: Extension 12 Email: tcole@nchec.org
For questions about Accounts Payable
FINANCIAL COORDINATOR
Lisa Petrone
Phone: Extension 15 Email: lpetrone@nchec.org
For questions about Provider / Continuing Education / Recertification / Change of Status / Credential Verification
CONTINUING EDUCATION COORDINATOR
Melissa Schmell
Phone: Extension 14 Email: mschmell@nchec.org
For questions about Communications / Social Media / Website / Newsletters / Job Postings
COMMUNICATIONS SPECIALIST
Jessica Wessner
Phone: Extension 10 Email: jwessner@nchec.org
Third Party Inquiries: Employers/Individuals
To verify certification status for employment purposes for specific individuals please contact the Administrative Coordinator
Resources
Subscribe via RSS

2022 CALL FOR CANDIDATES
NCHEC is searching for individuals to fill volunteer positions on our Board of Commissioners and Division Boards. All positions adhere to the Code of Ethics of the Health Education Profession. The terms of these positions will begin on January 1, 2022. NCHEC seeks individuals from a variety of practice settings on all boards: school, medical care, business/industry, academia and community. Elections will be held in August 2021. Consider nominating yourself or encouraging a peer to take this opportunity. The deadline to receive nominations is June 15, 2021.
Division Board for Professional Development (DBPD): One Director: 5-year term.
The DBPD is comprised of seven individuals responsible for oversight of the recertification and annual renewal procedures. More specifically, the DBPD recommends policies and procedures related to the designation of continuing education providers, recertification and the annual renewal of CHES®/MCHES®; recommends fees for recertification, annual renewal and provider designation; and assures that the processes are monitored and periodically evaluated. Interest or experience in the development or delivery of continuing education programs for health educators is preferred.
Division Board for Professional Preparation and Practice (DBPPP): Two Directors: 5-year term.
The DBPPP is comprised of seven individuals responsible for promoting professional preparation. More specifically, the DBPPP works with colleges, universities and accrediting agencies to improve professional preparation programs and promote best practices in health education settings, and monitors and updates the certification application and eligibility review process. Interest or experience with the credentialing process and with professional preparation is preferred.
Division Board for Certification of Health Education Specialists (DBCHES): Three Directors: 5-year terms.
The DBCHES is comprised of 11 individuals responsible for the credentialing examination. More specifically, the DBCHES assures a periodic review and evaluation of certification and examination processes; recommends policies and procedures for administering the CHES® and the MCHES® examinations; participates in item-writing workshops and on-going online item-writing assignments, and ensures that NCHEC's testing meets acceptable standards. Interest or experience in item-writing and exam construction is preferred. The MCHES® credential is required to serve on this Board.
Requirements for all positions include:
Maintaining CHES®/MCHES® certification (Note: DBCHES Directors must be MCHES®)
Participating in monthly conference calls
Attending one face-to-face meeting (all expenses paid by NCHEC) per year –typically this meeting spans a weekend (Thursday night –Sunday noon). DBCHES may require two face- to-face meetings per year.
Reading agendas, minutes and other documents and information to stay informed
Exercising independent judgment on decisions presented and maintaining confidentiality
Advocating for credentialing
Working on specific assignments/projects
Supporting the work and mission of NCHEC, protecting confidentiality, and avoiding conflict of interest
If you are interested in becoming a candidate, please contact Melissa Opp at: 888-624-3248 ext. 11 or mopp@nchec.org or visit the Web site at www.nchec.org. Nomination deadline is June 15, 2021.
Missing your Conference Swag? Let NCHEC mail you some CHES®/MCHES® goodies!
Please complete the below form with a valid mailing address (no PO Boxes) and we will get something on its way to you! We hope to see you next year – in person!
Sincerely,
NCHEC Staff
[{"type":"text","required":true,"label":"First and Last Name:","className":"form-control","name":"name","subtype":"text"},{"type":"text","subtype":"email","required":true,"label":"Email Address:","description":"We will contact you using this email address.","className":"form-control","name":"email"},{"type":"text","required":false,"label":"Mailing Address Line 1:","className":"form-control","name":"address","subtype":"text"},{"type":"text","required":false,"label":"Mailing Address Line 2:","className":"form-control","name":"text-1617243490532","subtype":"text"},{"type":"text","required":false,"label":"City:","className":"form-control","name":"text-1617243508636","subtype":"text"},{"type":"text","required":false,"label":"State:","className":"form-control","name":"state","subtype":"text"},{"type":"text","required":false,"label":"Zip: ","className":"form-control","name":"zip","subtype":"text"},{"type":"radio-group","required":false,"label":"Are you CHES/MCHES? Y/N (Do not need to be certified to receive goody bag)","name":"radio-group-1617243540003","values":[{"label":"Yes","value":"yes","selected":true},{"label":"No","value":"no","selected":false}]}]
Contact Us
| Access Date | Quiz Result | Score | Actions |
| --- | --- | --- | --- |